1992-1993:
LUCRETIA was originally formed as a high school band in 1992 by Teddy S (guitars) and Alex S (drums). Soon after, Slawi S (guitars) and George B (vocals) joined the band. In these early days, Plamen B. (bass) and Kosta C. (bass) supported the band for live shows. In 1994, George Y. joined as a core band member and took charge of the bass guitar.
LUCRETIA was named after a song title contained in 1990 Megadeth's "Rust in Peace" album. The band chose the name LUCRETIA after looking for an appellation in the style of metal bands such as Metallica, Pantera, and Sepultura.
1994-1999:
In October 1994, the band recorded its first demo album titled "World of Shits" (a song about corrupted politicians in the early days of political and socioeconomic transition in Eastern Europe). The demo album was recorded in the rehearsal halls at the Youth House in their hometown Blagoevgrad/Sofia region. Engineered by George W. (bass guitarist of death metal band "Brutal Death"), the demo album contained six original thrash metal songs. These included the titles "Horror Dream", "Bloody Night", "Noise in the Casket" (Шум в Ковчега), "Choice of the Destiny", "The Last Generation", and "World of Shits". Major musical influences on the early LUCRETIA song writing were derived from established thrash metal bands such as Metallica, Megadeth, Sepultura, Slayer, Anthrax, Testament, Sodom, Kreator, and others.
Due to financial constraints that were caused by a severe economic and political crisis in the country during mid and late 1990s, the early line up of LUCRETIA could however not afford to record a professional studio album at that time. This was truly disappointing because the band had written a dozen of fully-fledged kick-ass songs.
Between 1995 and 1999, the demo album titles were complemented by five older and newer songs all of that were played in concerts and live recorded. These additional titles were rooted in the mainstream of old school heavy metal ("War of the Worlds", "Voice in the Desert") and melodic death metal ("Name of the Rose", "Seven Deadly Sins", "Face of the Silence"). Major musical influences included heavy metal bands such as Judas Priest, Iron Maiden, Scorpions and melodic death metal bands such as Death, Carcass, Tiamat, and Amorphis.
These early years of LUCRETIA were marked by vivid teenager energy, great excitement and full dedication. During this time the band played many live shows across Bulgaria. Examples of these gigs include "1994 Thrash and Death Festival in the Youth House" (first debut gig of LUCRETIA), "1994 Death is Just the Beginnig Festival", "1995 Metal Battle on the Green in Bachinovo Park", and "1996 Rock at the Central Fountains" in Blagoevgrad, "1994 Students' Day Heavy Metal Festival" in Bansko", "1995 Rock in Razlog" Festival, "1995 Hard Rock Festival" in Sandanski, and"1995 Death Metal Festival" in Petrich. LUCRETIA also headlined or co-headlined landmark open air concerts and live shows such as the "1995 Thrash & Death Festival at the Motor-Car Mile" in Blagoevgrad and "1997 Rock Predel" in Razlog. LUCRETIA quickly became one of the promising newcomers in the heavy metal scene, attracting many fans and enjoying after stage parties.
Between 1995 and 1997, Teddy S. also supported the melodic death band SUCCUBUS as guest rhythm guitarist for few gigs around the country. This band was led by Nick W. (drums, guitars, vocals) and also supported by Wladimir K. (lead guitar). Alex S. was quickly acknowledged by other established rock metal bands (e.g., "Black Rose") as very talented drum player. Slawi S., George B. and George Y. also gained the respect and acknowledgement of peers and fans.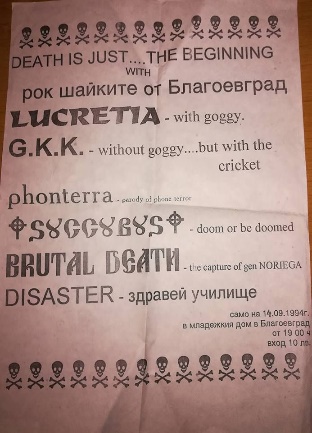 LUCRETIA at the "Death is Just the Beginning Festival" in Youth House, Blagoevgrad, Bulgaria. 1994
During 1995-1997, LUCRETIA gained wider popularity through several interviews and appearance on local and national radio stations ("
Radio AURA at the America University of Bulgaria
"; "
Bulgarian National Radio Sofia
") as well as by featured stories and articles in newspapers (e.g., "Struma Today"). All of these achievements testify that the band members hit their creative, musical and instrumental peak in mid and late1990s.
2000-2012
For approximately 12 years after 2000, LUCRETA was not maintained as an active heavy metal band due to several reasons. The band members decided to do academic studies and/or pursue professional careers in Bulgaria and Germany. Only Alex S. has continued actively playing rock music. He joined and played with a hard rock band named "Black Rose". In this way, he returned to the roots of his 1970's rock music idols (AC/DC, Deep Purple, Led Zeppelin, Jethro Thull). Until recently, he has formed and played with a progressive jazz and rock band named "Future Boogie".
All of these purposive or imposed choices meant a practical demise of LUCRETIA. Ironically, this coincided with the general and rapid decline of heavy metal music worldwide in late 1990s and 2000s.
2013-PRESENT:
The good news is that founding member Teddy S. recently made a fundamental choice: to revitalize, reunite, further develop and bring LUCRETIA to a new professional level. He has never really given in the spirit and energy of LUCRETIA even having interrupted playing guitar for a few years. Since 2013, Teddy S. with the support of band members has not only put the old material together, but he has also written several dozen of new songs. Between 2014 and 2017, LUCRETIA professionally recorded the instrumental tracks of 30 songs that would appear on three or four full-length studio albums (LPs/CDs). The albums will be released subsequently as soon as the vocal parts, the final mixes and the cover work get ready. The new recordings are being mixed and produced by Nick W., Teddy S. and George Y. Labels interested in managing, promoting and distributing LUCRETIA's albums are welcome to contact the band.
In November 2017, LUCRETIA released their first professional album on CD/LP entitled "World of Shades". The debut album contains for first time the new LUCRETIA logo designed by Plamen Kovachev and based on Teddy' ideas. The album includes six re-arranged songs from the 1990s heritage ("World of Shades", "Bloody Night", "Choice of the Destiny", "Seven Deadly Sins", and "The Name of the Rose") and two brand new songs ("Back To Life" and "Human Search Machine"). In March 2018, "World of Shades" was released also as a digital album that is now available on all digital social media, online shops and streams such as Spotify, iTunes, Google Play, Amazon, Deezer, etc.
Interestingly enough, this rebirth of LUCRETIA has coincided with similar reformation and creative developments in the heavy metal scene worldwide. Note the current metal crusade of new albums and live shows by Judas Priest, Slayer, Carcass, Megadeth, Metallica, Testament, to name just a few.